And pretty good value. What sets this place aside, is its novel location The atmosphere is lovely Service was to acceptable standards, and you can reach it by the Luas I have been a huge fan of this venue since it opened and regularly visited the bar and restaurant. I held my 30th birthday party here. My now husband also proposed to me on board the Cil Airne. Because it was so sentimental to us, we looked into having our wedding here- a small intimate affair of about people. We visited it several times, and spoke with the lovely staff about different options. We were given an unofficial tour several times.
They were so helpful and we got really excited and decided we would officially speak with the events co-ordinator to pin down a date and costings. This is where it all went wrong! There was a minimum spend of 10k stated on the website and we wanted to clarify what this would entitle us to and if we could have the whole boat or if this included drinks tab etc.
We eventually met with the events co-ordinator one lunch time. I can't tell you what a bad experience we had with her. She arrived unprepared, with no brochures, or suggestions. In her defence she had already sent us menus etc by e-mail but she didn't even have a booking diary with her. She was cold and hostile at times.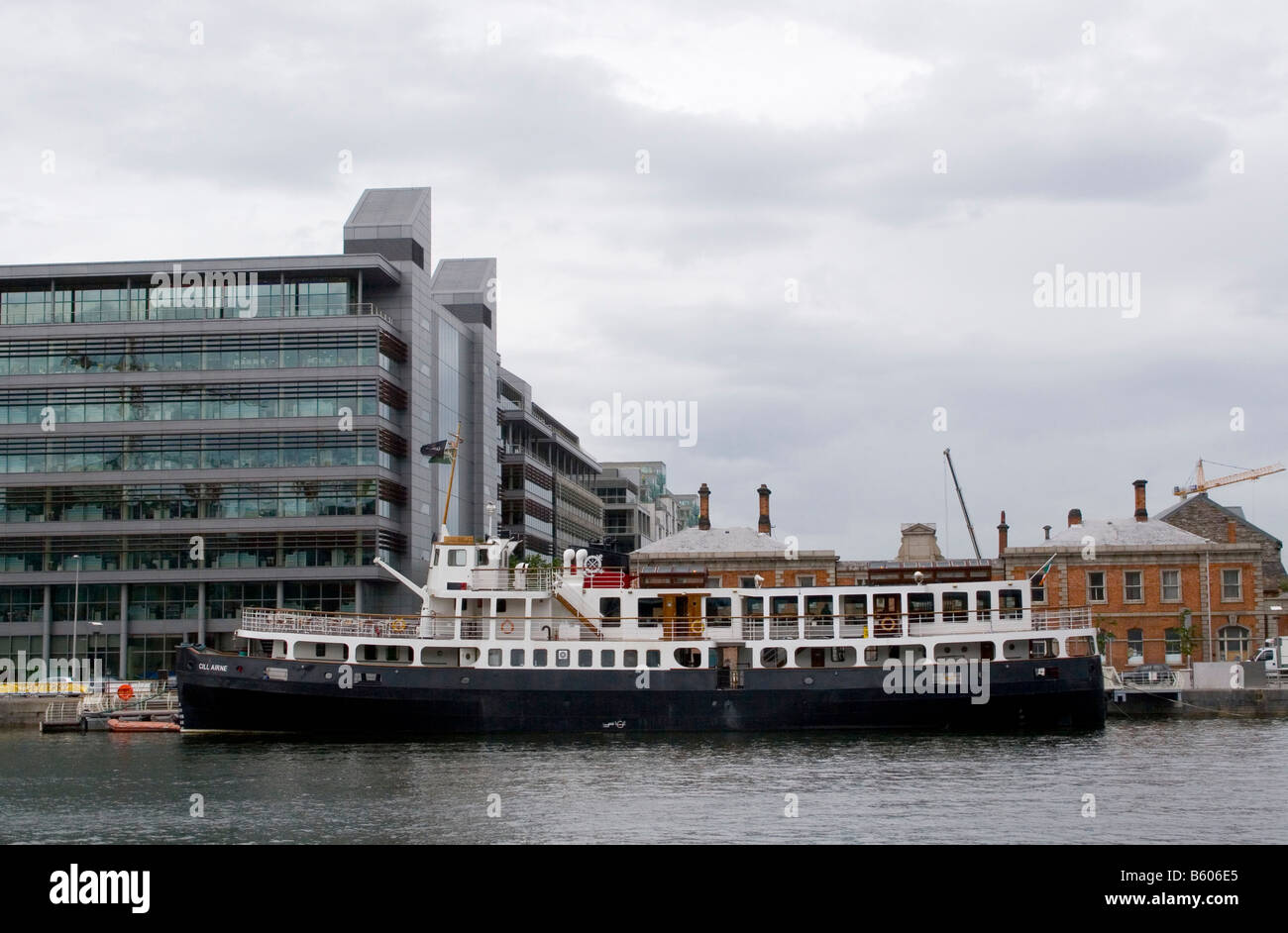 We could not get a straight answer from her as to whether or not the minimum spend applied to us. We got the impression this was maybe for corporate events, but she wouldn't give us a straight answer for some reason. At one point when we were trying to establish what the 10k included she said "well it doesn't sounds like you want to spend that amount anyway" We were shocked.
Yes we wanted a small wedding, but we were open to suggestion. The money was never the issue for us, we just wanted to know what we would get for the sum. She sat there , disinterested and didn't make any effort to do the job that you might expect an events planner to do. There were no suggestions , options, she never even asked us if we wanted to see around. One of the bar staff had previously painted us a lovely picture about how the tables were decorated and laid out during a previous wedding and when we asked her how the tables would be dressed if we used the top deck instead of the resturant, she flippantly pointed to the bare lunch time tables and said "like that".
When we tried to pin point an available date, she didn't even bat an eyelid. She just said it depended what was on in the O2 that night because they wouldn't want to miss out on the business from that! Clearly our small wedding on a peak Saturday night in July was too insignificant to even entertain. At the end of the "conversation" my fiance and I were in shock. All three of us were sitting glaring at each other with our arms folder- hardly condusive to planning a wedding.
We asked if she could send us more details by e-mail which she agreed to, but they never came. I was so angry I couldnt even bring myself to complain. We since had our wedding in the beautiful village at Lyons, but the Cil Airne has been riuned for us both and we haven't set foot on it since, nor will we again. It's a shame because we always raved about it and gave them a lot of business over the past few years.
The abbey was burned down by Cromwellian forces under General Ludlow in , and today remains a ruin. Killarney was heavily involved in the Irish War of Independence. The town, and indeed the entire county, had strong republican ties, and skirmishes with the British forces happened on a regular basis.
Killarney - Wikipedia
The Great Southern Hotel was for a while taken over by the British, [12] both as an office and barracks, and to protect the neighbouring railway station. One notable event during the war was the Headford Ambush when the IRA attacked a railway train a few miles from town. However, divisions among former colleagues were quick to develop following the truce and treaty, and Killarney, like many other areas, suffered in the rash of increasing atrocities during the Civil War. Killarney's tourism history goes back at least to the mid 18th century, when Thomas, fourth Viscount Kenmare Lord Kenmare , began to attract visitors and new residents to the town.
The date of was used in recent year celebrations to honour the history of Killarney tourism. A visit by Queen Victoria in gave the town some international exposure. Killarney benefited greatly from the coming of the railway in July British trade directory publisher Isaac Slater noted that there were three hotels in the town in [13] but by , one year after the coming of the railway, James Fraser named seven hotels and described their locations:.
At the time he was writing, tours of the Ring of Kerry were already an industry and Killarney was considered the starting point of the hundred and ten mile circuitous route. He was fascinated by the horses' endurance on the two-day trip, and leaves clear advice for other travellers;. It is a common and wise custom of those who make this tour, and are not pressed for time, to hire the carriage at the hotel in Killarney and continue with it 'all the way round.
As part of the trip, he noted that there were hotels in Glenbeigh and Waterville along with a "comfortable inn", which is now The Butler Arms Hotel. The club provides basketball for boys and girls youth teams and has a senior mean national league team that plays in the Irish Basketball Division one league under the name of Scotts Lakers SPK. St Pauls Basketball club was formed from the St. Vicents Basketball Club. Killarney has three football clubs—all of which compete in the Kerry District League.
Killarney Athletic A. The club played its first competitive game in the Desmond League as a youth team and entered a junior team at the start of The club entered its first youth and B teams into the KDL in and now has two senior teams and a youth team competing in the league.
Join Now for FREE to Find Adult Sex Near Dromdowney, Munster
The club was also a founding member of the Kerry Schoolboys League in and currently fields teams across the age groups from under 10s to under 16s boys and girls. Killarney Celtic was founded in The club purchased their own ground in and have invested in their facilities since then.
In recent years the numbers taking part have risen to and the event has raised millions for local charities. The club has a strong youth side and adult side and competes regularly. On the mountain biking side, they had a national championship winner in the youth and adults. In Killarney was due to a host a round of the UCI Mountain Bike European Championships but unfortunately the construction of the venue never started due to complications.
The fate of the project is unknown. Kerry have been the most successful team in the All-Ireland Senior Football Championship with 37 titles. The team plays at the Fitzgerald Stadium , opened in , which as capacity for 43, spectators. The rural hinterland has a large number of football teams, such as Kilcummin, Fossa, Firies, Glenflesk and Gneeveguilla. Crokes is the most successful of these teams, with the most notable triumphs being the capture of the All-Ireland Senior Club Football Championship in and the Munster Senior Club Football Championship in and The club has also won the County Championship on 7 separate occasions, the last being in Crokes is the only club in Killarney with a hurling team, which has had some important successes, most recently winning the Kerry Intermediate Hurling Championship in and There are six active rowing clubs in the town, who share a common history in Ireland's oldest surviving regatta, the Killarney Regatta, which is held annually on the first or second Sunday in July.
The style of rowing seen at the regatta is traditional, fixed seat rowing in wide, wooden six-person boats. Since the eighties, a number of the clubs have moved toward coastal type rowing and modern 'slide' or Olympic style rowing. Muckross Rowing Club is the largest and most successful of the clubs, having developed into a full-time 'sliding' club with 32 National Championships since at various levels from Junior to Senior.
A number of members of the club have also been selected to row for Ireland and have competed successfully at the Home International Regatta , Coupe de la Jeunesse , World Rowing Championships and Olympic Games. The club's 1st XV won promotion to Division 2 in ,. The club has also a large youth and underage set-up catering for all young enthuasists from the town and surrounding areas. The team were really helpful in terms of set-up, access to get decorations set up etc.
On the night the barman Pavel was a great help, very attentive and friendly and kept the bar running really well. The finger food was really good, good quality and great variety, served promptly, and all my guests said they loved the experience, the venue, the food etc. It was really nice at the end of the night sitting out on deck and looking up and down the Liffey while chatting with friends.
We went to the Cill Airne for a birthday meal and it was really lovely. Great ambiance on board, excellent staff and a really delicious meal, with each course better than the last! Highly recommend this place for a special meal and good value if you get the pre theatre menu.
Had a great party at MV Cill Airne - Cill Airne
We booked a private room downstairs on the boat with the barbecue food option. Ambience was great and it was great to be able to go out on deck on a lovely mild evening. We had the option of bringing our own music or they had piped music on board. Staff were really lovely which enhanced the experience for everyone. There is also a bar upstairs which was very busy as well.
Well worth a visit. I recently celebrated my 30th birthday here with family and friends. It was amazing from start to finish. When booking over the phone they were so helpful, asking exactly where I wanted to be for the night and how they would set up the tables. We had some tall tables in the bar and it was perfect. The bar staff all wished me happy birthday which was lovely! We ordered bottles of Prosecco and platters of chips, sausages, chicken wings. The food and drink was all amazing.
It was a beautiful evening so we were coming and going out to the deck for photographs. I had an amazing night thanks to everyone at the MV Cill Airne. All of my guests were blown away with the venue, it is so different. There is no doubt about it, I will be back again soon for dinner and drinks!
10 Things to deal with here in Ireland - InfoVlog - Pinoy Nurse in Ireland
We decided to have our wedding onboard the Cill Airne. We dealt with Lisa who was absolutely brilliant, she couldn't have done better, we dropped in our table plan and some centre pieces and the guys did such a good job putting everything together.
best dating websites in Clane Ireland.
Join Now for FREE to Find Adult Sex Near Pollagh, Ulster!
dating girl number Raheny Ireland!
websites-services.com | Official site | The best hotels & accommodations!
hook up sites in Bray Ireland;
Travellers who viewed Cill Airne also viewed!
Wild Sex Dating in Cill Airne.
We were lucky we had a good day so our guests could relax on deck in the sun. They had glasses of champagne as we arrived and all the guests complimented the set up and how relaxing and different it was. We sat for dinner and to say we were impressed is an understatement!!!